MEDIA SPOTLIGHTS
Wayne has participated in numerous multi-media interviews in connection with his books and conservation work. He is an experienced presenter on subjects such as natural history, conservation initiatives, and the interface between industrial activity and the natural world.
Y2Y: Illustrious Explorers Club Honours Founding Y2Y Board Member
March 2009: Yellowstone to Yukon Conservation Initiative
"The illustrious Explorers Club has adopted a new Fellow, one who lives in the Peace River Region of northeastern British Columbia. Wayne Sawchuk, conservationist, guide, author and photographer, joins such luminaries as Sir Edmond Hillary and Tensinz Norquay, Neil Armstrong, Buzz Aldrin and Michael Collins, Robert Peary, Roald Amundsen and Thor Heyerdahl, great explorers whose names live in history...."
National Geographic: Northern Giant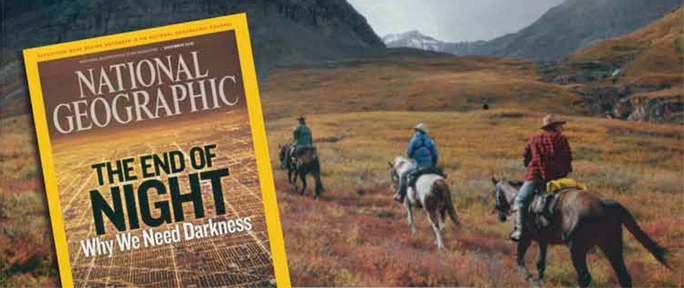 November 2008: National Geographic Magazine
"The largest wilderness region in the Canadian Rockies might never have been preserved if not for a former logger who came to the rescue...."
CPAWS: National Geographic showcases BC
Winter 2008: Canadian Parks and Wilderness Society
"Just below the Yukon border, a massive stretch of mountainous terrain turns 10 years old this year. It was 1998 when the province gave birth to the Muskwa-Kechika Management Area. This was an accomplishment of environmentalists, industry, guide-outfitters and others working together to develop a different way of doing business within this magnificent landscape...."
BC Magazine: Winter Tracks
Winter 2008: British Columbia Magazine
"Almost anyone else would see a barren landscape: a brooding morning mist hanging over a frozen pond rimmed with dormant foliage. To Wayne Sawchuk—trapper, photographer, and award-winning conservationist—this scene just off Bullmoose Creek, outside the northern community of Tumbler Ridge, is a wildlife storybook neatly written in the snow...."
Northword: Keeping Wilderness Intact
October 2007: Northword Magazine
"Living as most of the province does in the Pacific watershed, few BC residents have heard of the northeastern wilderness known as the Muskwa-Kechika Management Area (MKMA). More than 6.4 million hectares in size, it straddles the Rocky Mountain Trench in an arch formed by the watersheds of the Muskwa and Kechika Rivers as they travel north through miles of boreal forest into the Liard River, the Mackenzie and finally the Arctic Ocean...."